Coming this Fall 2004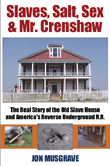 Slaves, Salt, Sex & Mr. Crenshaw
The Real Story of the Old Slave House and America's Last Station on the Reverse Underground R.R.

Now Available

Gallatin County, Illinois, Slave & Emancipation Records, 1839-1849
John W. Allen's 1950 transcription of the now-missing second slave registry.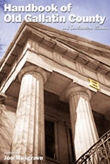 Handbook of Old Gallatin County & Southeastern Illinois
The must-have book for any southeastern Illinois genealogist or researcher.

Base map: R. B. Marshall, Chief Geographer, and O. H. Nelson, topography. 1916. Illinois Equality Quadrangle. 1:62500. U.S. Geological Survey. U.S. Dept. of the Interior. Updated features: Jon Musgrave. 2004. IllinoisHistory.com.

1916 HICKORY HILL CLOSE-UP — This is an altered close-up of the 1916 Equality Quadrangle topography map. For scale the entire map represents a 1.75 x 1.75 mile square, or about 1,920 acres. The light orange rectangle around the Old Slave House icon shows the 2.7 acres purchased by the state in 2000. The state also acquired the 7-acre tract in yellow that is the old Hickory Hill Mine site. The green area that wraps around the two parcels is what's left of the Sisk Farm that George's grandfather began purchasing in 1913. It contains the site of Crenshaw's large barn which stood immediately to the east of the house. The barn stood in 1842 and may have been finished earlier. It burnt in the late 1920s due to a careless cigarette smoker. It would make an excellent area for an interpretive center. To the northwest of the house may be the site of 13 slave cabins found on the edge of the hill in two rows, one of eight and the other of five. Route 1 isn't really shown on this map as it didn't come about until the 1920s. If you connect the lane in front of Gen. Lawler's house with the road running south from Lawler Station you'll have the modern highway alignment.